Finally its Friday. Its been a long week.
My mailbox was busy this week. I received two books:

Elemental Shaman : One
Mans J
ourney into
the Hea
rt o
f
Humanity, Spirituality and Ecology.

The back of the book:


This fascinating true story chronicles one man's journey into the mysteries of spiritual consciousness and the indegenous healing practices of four shamanistic traditions: Toltec, Cherokee, Maya and Buddhist. In his travels around the globe, Rosales witnesses the powerful channeled spirit Nino Fidencio, recieves messages and healing from
a Toltec shaman, and experiences a dramatic soul retrieval from a Cherokee spiritwalker. Rosales travesls to Guatemal, where he meets a mayan high priestess and the secret brotherhoods called cofradias, whose mission is to guard M
aximon, the last living Mayan god. Rosales's last journey is to Bhutan, the Land of the Thunder Dragon, where he spends time with a holy lama.

A Lucky Child by Thomas
Be
urgenthal.

From Amazon:

From Publishers Weekly
Not many children who entered Auschwitz lived to tell the tale. The American judge at the International Court of Justice in the Hague,
Czechoslovakia-born Buergenthal, is one of the few. A 10-year-old inmate in August 1944 at Birkenau, Buergenthal was one of the death camp's youngest prisoners. He miraculously survived, thanks, among others, to a friendly kapo who made him an erra
nd boy. Buergenthal's authentic, moving tale reveals that his lifelong commitment to human rights sprang from the ashes of Auschwitz. 16 b&w photos, 1 map.
(Apr. 20)
Copyright © Reed Business Information, a division of Reed Elsevier Inc. All rights reserved.
I'm still reading The Anatomy of Wings
By Karen Foxlee.

From Amazon starred reviewer:

From Booklist
*Starred Review* Set in a small Australian town in the early 1980s, this shining debut novel charts a young girl's grief after the death of h
er older sister. Months before Beth's fatal fall, 10-year-old Jennifer's beautiful singing voice disappears. When and why it "got stuck" forms a central mystery that unifies Jennifer's narrative, which loops fluidly between past and present. Each clue leads back to events from the tumultuous year before Beth died, and Jennifer's search for her voice becomes a larger search for how her beloved sister was lost and what it m
eans to leave childhood behind. In this sensitive, original story, Foxlee explores familiar elements: the warmth and suffocation of living in "Nowheresville"; the chasm of misunderstanding between parents and adolescent children. Jennifer loves the comfort and solidi
ty of facts, and she collects information like currency, but her observations are also poetic and washed with magic realism. Not all the plot's tangents are well integrated, but the story works as memory does, with skips, gaps, and sudden, piercing moments that are as illogical and illuminating as a dream. With heart-stopping accuracy and sly symbolism, Foxlee captures the small ways that humans reveal themselves, the mysterious intensity of female adolescence, and the surreal quiet of a grieving house, which slowly and with astonishing resilience fills again with sound and music. Gr
ades 8-12. --Gillian Engberg
I'm enjoying my reading this week.

I also came across the New York Times article about Yann Martels new book coming out in sometime next year . One of my favorite books of all time was Life of Pi
so i'm looking forward to reading his new book.

Park-Avenue Princess is doing a contest for this bracelet.
Its so cool, i had to enter!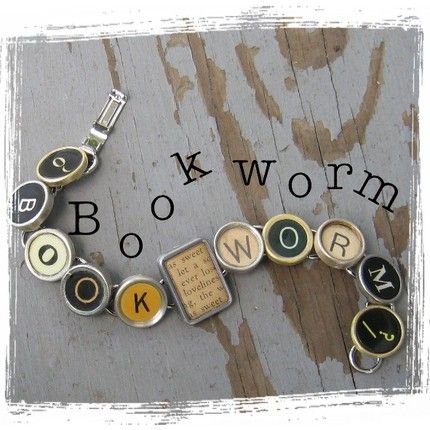 Well thats all for now. May post more later.

One more thing, Dina of Just Another New Blog - just sent me a winning email! I won The Scarecrow by Michael Connelly!

Have a great week and happy readin
g!

**** Just note that i won a "quickie" contest put on by Beth from
Beths Book Review
- "My Forbidden Desire" -- Ooohhh sounds hot !!LOL! Thanks so much Beth!
Best regards,